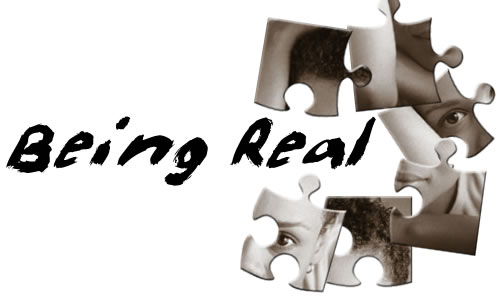 Last week I went to a mom's meeting organized by our homeschool group. This is a laid back discussion time in someone's home. I rarely attend these meetings because they are either held in the daytime during naps or in the evenings when I am scheduled to work or need to be home that night.
I had a rare opportunity to attend the meeting and jumped at it. The topic was "being real". This has been on my mind. I had recently broken out in hives after hearing what "works for other homeschool families" in regards to curriculum. I have a tendency to compare myself to others probably to a fault. This turns into wanting to represent myself to others in the best light possible in order that I or my home or my marriage or my children or my homeschool or my faith will somehow measure up. What does this accomplish? It probably makes the other person break out in hives and begin comparing themselves as well. So needless to say this was a timely topic for me.
People, usually strangers, often approach me. "How do you do it?" "You must be the most patient person in the world." "You're children are ALWAYS well behaved." "I don't know how you do it ALL!" "I'd love to be a fly on the wall at your house." "You must be really organized."
I don't know what the proper response should be. I want to be real. I want to bring honor to God, my sustainer. I want to proclaim His goodness and grace toward me. I want to encourage them by my responses. I want to be one who does not complain because life gets hard.
I want to be real. I want to let them know that my house is not clean. I want them to know that if they were a fly on the wall that they would be safe because in my disorganization I can
never
find the fly swatter. I want them to realize that I'm struggling with the same insecurities that I've had for years. I want them to know I sometimes disappoint my husband and children and they disappoint me.
Blogging is a funny thing to me. It's my world edited by me. What gets better than that? You get to read my best thoughts and see the prettiest pictures. If I change my mind, I can edit it or delete it into the unknown.
Though blogging has become one of my favorite pastimes and I don't plan to stop anytime soon, I walked away from that meeting being thankful for flesh and bone, like-minded women with whom to share and the inspiration that comes from another's wise words. I am blessed by those who enter my disorganized, noisy home to spend time with my family. It is comforting to know that there are people who know the real me and choose to call me friend.
All this to say, those of you who know me in real life, thanks for letting me be ME. And for those of you who know me through my blogging life, thanks for continuing to visit. I pray that this is a place of blessing for you and not comparison.